About Us
The Indian Chef is a Indian takeaway in Peterborough. Why don't you try our Spinach Paneer or Lamb Korma (Mild)?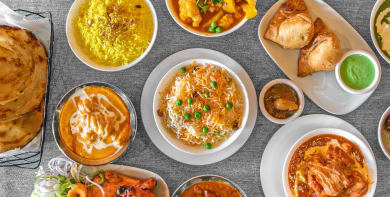 Reviews
151 reviews
Kirstie
"Always an excellent service to be honest !!"
24/07/2021
David
"Hot, lovely flavours & good portions , great customer service aswell"
21/07/2021
Charlie
"Very nice food definitely would order again highly recommend"
02/07/2021
Kari
"Absolutely lovely, a wide range of flavours. All veg dishes in sauce this time and will defo be having again. If you like it hot try the lentils just yummmmm."
21/06/2021
Menu
Vegetable Pakora
Soya
Milk
£3.50
Vegetable Samosas (4)
Soya
Gluten
£2.50
Samosas (4) Chicken
Soya
Gluten
£2.50
Samosas (4) Meat
Soya
Gluten
£2.50
Onion Bhaji (1 Portion)
Soya
Gluten
£2.50
Paneer Tikka
A delicious preparation of soft cheese marinated in yoghurt & special spices, roasted in a clay oven
Milk
Mustard
£4.50
Tandoori Mushroom
Soya
Mustard
£4.50
Mushroom Bhaji (1 Portion)
Soya
£4.00
Golden Fried Prawns (King Size)
Soya
Crustaceans
£7.00
Paneer Pakora
Soya
Mustard
£4.00
Butter Paneer
Cubes of soft cheese toasted in a tomato gravy, laced with butter
Nuts
Soya
Milk
£5.50
Spinach Paneer
Gravy
Soya
Milk
£5.50
Bombay Aloo
Gravy
Soya
Milk
£4.00
Jeera Aloo (Dry)
Soya
Milk
£4.00
Saag Aloo
Gravy
Soya
Milk
£4.20
Aloo Gobi (Dry)
Soya
Milk
£4.00
Daal Tarka (Spicy)
Lentils cooked & seasoned with turmeric, onions, ginger, garlic & tomatoes
Milk
£4.00
Bhindi Fry
Okra fried with spices
Soya
Milk
£4.00
Channa Masala (Spicy)
Soya
Milk
£4.00
Spinach Mushroom (Medium Spicy)
Soya
Milk
£5.30
Mixed Vegetable Balti
Soya
Milk
Mustard
£5.30
Paneer Mushroom Masala
Milk
£5.50
Vegetable Madras (Spicy)
Soya
Milk
Nuts
£5.30
Vegetable Korma
A preparation of assorted vegetables
Nuts
Soya
Milk
£5.25
Indian Chefs Special Paneer Fairly Hot
Cubes of soft cheese cooked with onions & tomatoes
Soya
Milk
£5.50
Indian Chefs Special Paneer Medium
Cubes of soft cheese cooked with onions & tomatoes
Soya
Milk
£5.50
Gafoori Tikka
Potatoes marinated & baked in the clay oven
Soya
Milk
Mustard
£4.50
Peshwari Cauliflower
Cauliflower marinated in special spices & roasted in the clay oven
Soya
Milk
Mustard
£4.50
Paneer Jalfrezi (Spicy)
Soya
Milk
£5.50
Vegetable Rogan (Mild)
Soya
Milk
£5.30
Kadai Paneer (Medium)
Soft cheese cooked with green pepper, onion, tomatoes & spices
Soya
Milk
£5.50
Kalmi Kebab
Chicken drumsticks marinated in yoghurt & tandoori spices, roasted in the tandoor 
Nuts
Milk
Mustard
Eggs
£5.00
Chicken Tikka Dry
Milk
Mustard
£5.00
Seekh Kebab
Tender rolls of minced lamb marinated in authentic spice & roasted in the tandoor
Milk
Eggs
£5.00
Malai Chicken Tikka Kebab
Succulent diced chicken marinated & baked in the tandoor
Nuts
Milk
Eggs
Mustard
£5.00
Tandoori Platter
An assortment of kebabs prepared with variety of different spices & cooked in the clay oven
Nuts
Milk
Eggs
Mustard
£7.50
Tandoori Chicken - Full
Milk
Mustard
£7.40
Tandoori Chicken - Half
Milk
Mustard
£4.00
Chicken Pakora
Soya
Gluten
Mustard
£5.00
Hariyali Chicken Tikka
Tender pieces of boneless chicken marinated in fresh mint, spinach & spices & cooked in the tandoor
Milk
Mustard
£5.00
Garlic Chicken Tikka (Spicy)
Pieces of fresh chicken marinated with garlic & cooked
Milk
Mustard
£5.00
Chicken Shashlik
Milk
Mustard
£5.50
Ginger Prawn Curry (Spicy)
Soya
Crustaceans
Milk
£6.20
Prawn Rogan Josh (Mild)
Soya
Crustaceans
Milk
£6.20
Balti Prawn (Medium)
Soya
Crustaceans
Milk
Mustard
£6.20
Prawn Jalfrezi (Spicy)
Soya
Crustaceans
Milk
£6.20
Prawn Masala Medium
Soya
Crustaceans
Milk
£6.20
Prawn Masala Spicy
Soya
Crustaceans
Milk
£6.20
Prawn Vindaloo (Spicy)
Soya
Crustaceans
Milk
£6.20
Prawn Madras Medium
Soya
Crustaceans
Milk
Mustard
Nuts
£6.20
Prawn Madras Spicy
Soya
Crustaceans
Milk
Mustard
Nuts
£6.20
Prawn Korma (Mild)
Soya
Crustaceans
Milk
Nuts
£6.20
Black Pepper Bhuna
Spicy gravy
Soya
Milk
£6.30
Lamb Balti (Medium)
Soya
Milk
Mustard
£6.30
Lamb Pickle (Fairly Hot)
Soya
Milk
Mustard
£6.30
Mango Lamb (Mild)
Soya
Milk
£6.30
Seekh Kebab Masala (Medium)
Soya
Milk
Nuts
£6.30
Lamb Bhuna (Dry)
Cubes of lamb fried with spices
Soya
Milk
£7.50
Lamb Spinach (Medium)
Soya
Milk
£6.30
Lamb Tikka Jalfrezi
Soya
Milk
£6.30
Lamb Tikka Masala
Soya
Milk
Nuts
£6.30
Lamb Korma (Mild)
Soya
Milk
Nuts
£6.30
Lamb Vindaloo (Spicy)
Soya
Milk
£6.30
Lamb Madras (Fairly Hot)
Soya
Milk
Nuts
Mustard
£6.30
Keema Muttar Hot
Soya
Milk
£6.30
Keema Muttar Medium
Soya
Milk
£6.30
Lamb Curry (Medium)
Soya
Milk
£6.30
Lamb Jalfrezi (Spicy)
Soya
Milk
£6.30
Lamb Rogan (Mild)
Soya
Milk
£6.30
Lamb Pasanda (Mild)
Soya
Milk
Nuts
£6.30
Butter Chicken (Mild)
Soya
Milk
Nuts
Mustard
£6.20
Chicken Badami (Mild)
Pieces of chicken cooked with almonds
Soya
Milk
Nuts
£6.20
Chicken Korma (Mild)
Blended with cashew nuts & flavoured with curry sauce
Soya
Milk
Nuts
£6.20
Chicken Tikka Masala (Medium)
Soya
Milk
Mustard
£6.20
Chicken Hara Masala Medium
A traditional preparation of chicken with Kashmiri green masala
Soya
Milk
Mustard
£6.20
Chicken Hara Masala Spicy
A traditional preparation of chicken with Kashmiri green masala
Soya
Milk
Mustard
£6.20
Chilli Chicken (Spicy)
Soya
Milk
£6.20
Chicken Pickle (Spicy)
Soya
Milk
Mustard
£6.20
Mango Chicken (Mild)
Soya
Milk
£6.20
Chicken Khurchan (Spicy)
A mouthwatering preparation of boneless chicken flavoured with tomatoes, garlic & green pepper
Soya
Milk
Mustard
£6.20
Chicken Spinach (Spicy)
Soya
Milk
£6.20
Chicken Tikka (Indian Chef Style) Fairly Hot
Shredded onions & tomato cooked with garam masala
Soya
Milk
Mustard
£6.20
Chicken Tikka (Indian Chef Style) Medium
Shredded onions & tomato cooked with garam masala
Soya
Milk
Mustard
£6.20
Chicken Madras (Fairly Hot)
Soya
Milk
Nuts
Mustard
£6.20
Chicken Vindaloo (Spicy)
Soya
Milk
£6.20
Chicken Balti (Medium)
Soya
Milk
Mustard
£6.20
Ginger Chicken (Fairly Hot)
Soya
Milk
£6.20
Chicken Dopiaza (Mild)
Soya
Milk
£6.20
Chicken Jalfrezi (Spicy)
Soya
Milk
£6.20
Chicken Curry (Medium)
Soya
Milk
£6.20
Chicken Rogan (Mild)
Soya 
Milk
£6.20
Chicken Pasanda (Mild)
Soya
Milk
Nuts
£6.20
Chicken Dansak (Spicy)
Soya
Milk
£6.20
Tandoori Roti
Soya
Gluten
£1.00
Roomali Roti
Exotic bread made from maida (fine flour)
Soya
Gluten
£1.60
Peshwari Naan
Milk
Nuts
Gluten
£1.80
Coconut Naan
Milk
Nuts
Gluten
£1.80
Butter Naan
Soya
Gluten
Milk
£1.80
Stuffed Paratha
Gluten
Milk
£1.80
Chicken Biryani with Curry
Soya
Milk
£7.50
Lamb Biryani with Curry
Soya
Milk
£7.50
Chicken Tikka Biryani with Curry
Soya
Milk
Mustard
£7.50
Prawn Biryani with Curry
Soya
Milk
Crustaceans
£7.50
Vegetable Biryani with Curry
Soya
Milk
£6.00
Kashmiri Pilau Rice
Soya
Milk
£4.00
Vegetable Pilau Rice
Soya
£3.00
Prawn Fried Rice
Crustaceans
Soya
£4.00
Special Fried Rice
Lamb, chicken, mushroom, eggs
Soya
Eggs
£4.00
Fried Poppadom (2)
Soya
Gluten
£0.80
Roasted Poppadom (2)
Soya
Gluten
£0.80
Mixed Raita
Cucumber, tomatoes, onions in yoghurt with spices
Milk
£2.00
Condiment Apple Sauce
Each
Peanuts
Nuts
Milk
Mustard
£0.50
Condiment Chilli Pickle
Each
Peanuts
Nuts
Milk
Mustard
£0.50
Condiment Lime
Each
Peanuts
Nuts
Milk
Mustard
£0.50
Condiment Mango
Each
Peanuts
Nuts
Milk
Mustard
£0.50
Condiment Mint
Each
Peanuts
Nuts
Milk
Mustard
£0.50
Pickle Tray
Peanuts
Nuts
Milk
Mustard
£2.00
Set Meal For 1 Person
Samosa or onion bhaji
Steamed or pilau rice
Curry of your choice (chicken, lamb, vegetable or prawn)
Kebabs (tikka, malai, hariyali, garlic or seekh)
£9.00
Set Meal For 2 People
Samosa or onion bhaji with poppadoms
Steamed rice, pilau, egg rice, jeera pilau
2 curries of your choice (chicken, lamb, vegetable or prawn)
Kebabs (tikka, malai, hariyali, garlic or seekh)
£18.00
Set Meal For 4 People
Samosa or onion bhaji with poppadoms
Steamed or pilau rice
Curry of your choice (chicken, lamb, vegetable or prawn)
Kebabs (tikka, malai, hariyali, garlic or seekh)
2 butter naans or garlic naans
£36.00
Set Meal For 6 People
Samosa or onion bhaji with poppadoms
Steamed rice, pilau, egg rice, jeera pilau
3 curries of your choice (chicken, lamb, vegetable or prawn)
Kebabs (tikka, malai, hariyali, seekh or garlic)
3 butter naans or garlic naans
£50.00
Chicken Tikka Wrap
With salad
Milk
Gluten
Mustard
£4.00
Seekh Kebab Wrap
With salad
Milk
Gluten
£4.00
Chicken Kebab Naan
With salad
Milk
Gluten
Mustard
£4.00
Seekh Kebab Naan
With salad
Milk
Gluten
Mustard
£4.00
1 Piece Chicken & Chips
Soya
Gluten
£2.50
2 Pieces Chicken & Chips
Soya
Gluten
£3.50
4 Pieces Chicken & Chips
Soya
Gluten
£6.00
Chicken Nuggets & Chips
Soya
Gluten
Milk
Eggs
£3.50
Beef Burger
Soya
Gluten
Sesame seeds
£2.00
Cheeseburger
Soya
Gluten
Sesame seeds
£2.50
Donner Kebab Bread
Soya
Gluten
£4.00
Donner Kebab Naan
Soya
Gluten
£4.00
Contact Us
Find Us
973 Lincoln Road, Peterborough, PE46AF
We deliver to
PE1, PE2, PE3, PE4, PE5, PE6, PE7